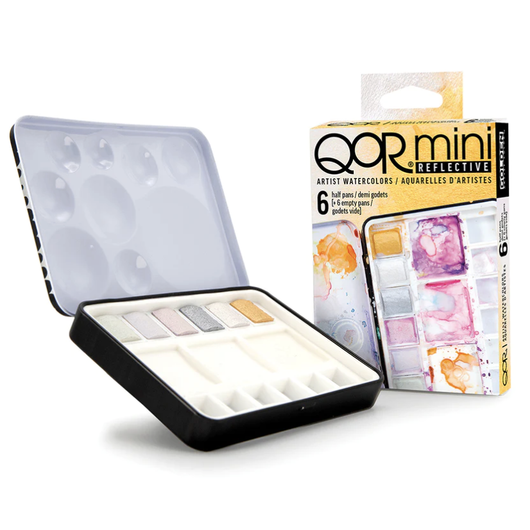 QoR Mini Reflective Set
QoR Watercolor
Regular price €55.00 Sale
The totally new solid half pans of colour within QoR mini re-wet beautifully and deliver the lively painting performance artists expect.
The deep, rich, beautiful colors of QoR with its exclusive Aquazol binder provides more pigment in every brushstroke while retaining the best qualities of traditional colour. Strength, versatility and now convenience and mobility are a part of the QoR Story. 
Reflective: Pigment chemistry has come a long way since the days of Turner, and watercolor painters are experimenting more than ever with modern reflective colors that play with light in unique ways.
The QoR Reflective 1/2 Pan set combines 3 of these modern colors from the QoR range plus 3 ALL-NEW INTERFERENCE COLORS into one palette that delivers an endless array of effects for the artist that wants to shine!
Contents: Iridescent Gold (Fine) Iridescent Pearl (Fine), Iridescent Silver (Fine), Interference Violet, Interference Blue, Interference Green + six empty half pans.